CONSENT DECREE DETAILS FROM A LOCAL DUDE WHO KNOWS WHAT HES TALKING ABOUT.
FOLLOW THE MONEY:
X
X toxic algae bloom- mouth of maumee river delta- into lake erie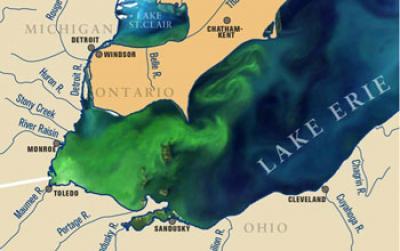 X
A FAIRY TALE OF NUMBERS AND MISDIRECTION

Would you willingly join a commune and marry someone who is in millions of dollars in debt?
Would you marry this "PROVIDER" knowing they will accumulate additional millions in debt – all of which will legally require you to help fund the ever increasing debt service (loan payments).
This communal marriage will be binding till death-do-you-part, unless you are survived by someone who will continue the relationship.
It should be noted here that all of the Provider's loans/debt were created long before you ever agree to become a member of his commune. You and yours have had nothing to do with the cause or creation of his debt.
You will have ZERO INPUT on the portion of the debt you must pay on a monthly basis. It will be dictated by the Provider and increased regularly without your consent. You will have no option to an alternative and no option to "opt out". Once you're in, you're in forever.
In this analogy, Fort Wayne City Utilities is the Provider and Huntertown residents are the proposed new members of the commune.
Fort Wayne is responsible for a century of neglect imposed upon it by poor planning from both sides of the aisle. Delayed solutions continue to allow the 3-rivers to be contaminated.
Several years ago a visiting IDNR official stated in a private conversation that he wouldn't put his big toe in any of Fort Wayne's rivers.
Mandates by the EPA and IDEM are forcing the city to re-engineer their combined storm-sewer systems. A "CONSENT DECREE" was issued by both agencies as follows:
THE CONCENT DECREE – WHO'S GOING TO PAY FOR ALL THIS?
The Utilities' combined storm and sanitary sewer system does not comply with federal Clean Water regulations.

After several years of negotiations with the Environmental Protection Agency (EPA) and Indiana Department of environmental Management (IDEM), the EPA lodged a Consent Decree with the federal court on December 28, 2007.

The Consent Decree became effective April 1, 2008. Under the terms and conditions of the Consent Decree, the Utilities committed to reduce the number of combined sewer overflow (CSO) days in a typical year to one day on the St. Joseph River and four days on the St. Mary's and Maumee Rivers.

The infrastructure cost to reduce the number of CSO events is approximately $240,000,000 (in 2005 dollars; indexed to 2015 at x1.20 = $288,000,000), to be spent over the next 18-years, concluding in 2025.

Additionally, the Utilities committed to maintain the entire sewer system to performance standards prescribed in the Utilities' Long-Term Control Plan incorporated by reference into the Consent Decree.

• Eliminate three sanitary sewer overflows at an estimated cost of $31,000,000.
• Maintain the entire storm and sewer systems to performance standards prescribed in the LTCP.
• Mitigate assessed penalties with local investments in septic tank elimination subsidies and rain garden stipends.
The Consent Decree further provides for stipulated penalties for failure to achieve specified construction milestones, reporting deadlines or maintenance objectives.

The Utilities are in compliance with the Consent Decree's terms and conditions at this time.

HOLY COW #2 - A 49% RATE INCREASE

In June of 2014, Dan Stockman with the Journal Gazette reported on City Utility rates and activities. The city was about to start a second phase of an 18-year, $240,000,000 plan to address the estimated seventy combined sewer overflows that occur annually into our three rivers.
Rate payers naturally take the hit. The plan will implement incremental rate increases totaling 49% over the next 5-years.
The CONSENT DECREE mentioned earlier requires the city to nearly eliminate the combined sewer overflows into the three rivers.
This happens about 70-times a year, polluting the rivers with about 1-billion gallons of untreated sewage.
Again ... the consent decree signed in 2007 took effect in 2008 – the $240,000,000 estimate is the cost in 2005 dollars (indexed to 2015 at x1.20 = $288,000,000). The city is expected to pay close to $400,000,000 over the 18-years of the program.
If you live in Huntertown or Eel Township, do you really feel obligated to pay Fort Wayne to clean up its historical mismanagement? The rates just keep climbing for Fort Wayne residents.
HOLY COW #1 - 86% RATE INCREASE
In 2009, City Council approved a 5-year schedule of rate increases totaling 86%.
Through cost-savings, lower interest rates and efficiencies, Menon said, officials were able to stretch that 5-year schedule over 6-years, giving ratepayers a year of relief before the next schedule of increases begins.
The average 2014 household pays about $35.29 a month for sewer service, by 2019 it will have risen to $52.50. That is without interim increases for unforeseen expenses related to the mandates.
The higher rates will pay for more sewer separation projects, more relief sewers and more treatment plant upgrades. But the largest expense will be the 3-Rivers Protection and Overflow Reduction Tunnel, known as 3PORT. It will be 150' deep and 5-miles long; running from Foster Park to the Treatment plant.
The tunnel will be drilled through bedrock and will collect sewage from the core of the city. Construction could take up to 8-years.
A massive sewer pipe will feed into it. Paying for that and the other projects will require borrowing about $275,000,000.
Does any of this sound like something residents and businesses of Huntertown should be paying for?
TRUE COSTS - MEGA-MILLIONS
Management of City Utilities intentionally withheld vital information needed to produce a reliable "COST OF SERVICES" report prepared and published on June 16, 2014 by an independent auditing/CPA firm.
The firm prefaced the report with the following caveat on page 5:
"Management has elected to omit substantially all of the disclosures required by generally accepted accounting principles.

If the omitted disclosures were included in the financial statements, they might influence the user's conclusions about the Sewage Works financial position, results of operations and its cash flows.

Accordingly, these financial statements are not designed for those who are not informed about such matters." – Umbaugh Certified Public Accountants, Indianapolis, Indiana

It's curious that that has not been picked up by City Council or the press. Why was this information withheld and for what purpose?
FYI - Evansville, Indiana is projected to spend over HALF-A-BILLION DOLLARS on similar issues and challenges. Fort Wayne's anticipated finished project cost may actually be equal to or higher than Evansville's numbers.
All of the bonds and loans needed to correct Fort Wayne's historical problems will be carried on the backs of rate-payers.
The energy invested in adding rate payers becomes understandable when you look at their numbers.
Rate payers will pay the cost of repairing Fort Wayne's historical problems for decades to come. It's not a true Ponzi scheme, but more closely aligned with the Amway Circles.
Ironically, even if the current plan is successful, there will still be combined sewer overflows (CSO) events. The EPA and IDEM could attach restrictions on those at some point in the future. The Clean Water Act may come into play. There are no guarantees.
STORM VS SEWAGE
In many cases, Fort Wayne's wastewater (sewage) and storm water are combined in one line (pipe). When significant storm events occur and the Waste Water Treatment Plant becomes overloaded.
When this occurs, the untreated water is diverted to Combined Sewer Outlets (CSO's) and flow directly into the rivers. The St. Joe and St. Mary's rivers combine at the confluence and form the Maumee River. Seventy such events are reported to occur annually.
FORT WAYNE'S MISTAKES ARE NOT HUNTERTOWN'S PROBLEMS
According to Fort Wayne City Utilities Financial Statements December 31, 2012 & 2011 the Utilities had approximately $343,800.000 million in bonds and loans payable, An Increase Of $62,800,000 over 2011.
NOTE: There is always a danger when (cherry picking) pulling numbers from a lengthy financial report.
Therefore we direct you to the full Fort Wayne (FWA) online report for a complete contextual overview. CLICK HERE
SHOW ME THE MONEY – DEBT SERVICE AND RATE INCREASES
Wastewater bond/loan issues in 2012:
• A traditional SRF wastewater loan for up to $10,400,000 @ 1.78% payable over 20-years.
• An open market wastewater revenue bond for $15,500,000 over 15-years at 2.50%.
In December 2012, the Utilities issued $19,700,000 in refunding revenue bonds payable over 10-years at 1.45% to advance refund $20,800,000 in 2002A and 2002B Wastewater bonds and loans.
ONE OF MANY COMPARATIVE ANALYSES:
Huntertown's WWTP Capital Investment cost estimate: $14,200,000
Fort Wayne's 2012 Personnel Admin and Contract costs $17,737,374
TO OUR EEL TOWNSHIP NEIGHBORS
One day in the future, your rural septic systems and wells will become obsolete and you will be required by law to hook up to an approved utility service.
If you live within the service boundary of Churubuso, their treated wastewater is discharged into receiving waters consisting of Churubusco Branch, thence to Martin Johnson Ditch, and finally to the Eel River.
This may not happen in your lifetime, but the vigorous, vibrant growth of this area of Allen County is undeniable. Developers are actively surveying opportunities.
One prominent Eel River resident spokesperson was a willing seller of a potential parcel to be used for Huntertown's WWTP. However after soil tests, the site was deemed unsuitable. That same willing seller then immediately became an opponent of the project. Personal convictions may come and go, but the truth is forever.
Paying the City's Consultant to advise you on strategy and outcomes is awkward. Both he and the City have but one objective – EVERY RATE PAYER THEY CAN POSSIBLY PULL IN TO HELP PAY FOR THEIR 100-YEAR OLD MISTAKE.
Eventually you will either be a member of the Fort Wayne Utility Commune, never able to back away as costs grow exponentially, or a valued member and customer of a small town - thriving in a big city environment.
— Jerome Byanski is owner, creative planner and administrator of Earthplan, which provides extensive park planning services throughout Indiana. Byanski has supervised the planning, construction and maintenance of parks and park facilities for over 40-years, including serving as Superintendent of Parks in Fort Wayne where he was tasked with maintaining 80-plus properties.
X
X
X