MILITARY /POLICE SURPLUS PROGRAM MRAP- EOD/BOMBSQUAD/COMBAT ENGINEERS
FWPD to have new bomb dog
Thursday, December 4, 2014 - 7:44 am
There will soon be a new bomb dog on the Fort Wayne Police Department.
For the past several years FWPD had been relying on the county for help from its bomb dogs, but the city department is now training one of its own K-9s in explosives detection. Coris, an 18-month-old Belgian Malinois has been training with her partner, FWPD officer Dustin Engelman, since the beginning of July.
<iframe width="560" height="315" src="//www.youtube.com/embed/bwoC-IhuwRs" frameborder="0" allowfullscreen></iframe>
x
Monday morning Engelman ran Coris through a training exercise in which she had to find three different explosives. She found the hidden item every time: once in a stage trap door, once in a desk drawer and another next to a barrel in the Fort Wayne Regional Public Safety Academy garage.
She works on a 15- to 16-foot line and is trained to sit or lie down when she scents an explosive. By the time her training is done she will be able to recognize the odor of 16-18 different explosives.
"The difference between being a narcotics handler and a bomb handler is night and day," Engelman said.
With explosives the handler works further back with a long lead and lets the dog do the search. Once they find something it needs to be a passive response so the dog doesn't accidentally bump something.
Sgt. Bob Theurer, K9 unit supervisor/handler and a North American Police Work Dog Association master trainer, said the difference between a German shepherd and a Belgian Malinois is like a comparing a Chevy to a Ferrari. Coris is extremely smart and high energy.
"If you blink you are going to miss something she does," Theurer said.
For Engelman it has been a learning experience. The first week of class he sprained two fingers.
"This is a young man's dog," Engelman, 45, joked.
She is very high energy and extremely social. Generally Malinois are not extremely social, but highly work-oriented, Theurer said. Coris is curious about everything and extremely smart.
"Show her something once and she remembers it," Theurer said.
Coris has two modes,: she is either on her handler's lap and licking his face, or intensely working. Her reward for doing the right thing is a pull toy. She has already been certified as a utility dog and is very close to going through her certification test as an explosives dog.
"In narcotics the handler leads the dog; in explosives the dog leads the handler," Theurer said.
For Engelman this is the first dog he has trained all the way through to certification. His first K-9 partner, Nemo, was retired from the force last year. Nemo was not trained as an explosives dog. Engelman had been on the FWPD force for 20 years before switching to K-9. When he made the switch he had to be brought up to speed on how to handle Nemo, who had a former partner. Now he and Coris are working together, both learning new things and building a relationship from the beginning.
So why a K-9 bomb dog handler?
"I was in the military for 20 years and have always been extremely interested," Engelman said.
Theurer said it's a job with a lot of responsibility. When an officer and a narcotics dog have an off day and miss something it means somebody got away with their drugs, when a bomb dog and officer miss something it means lives are at stake. Theurer said he had an explosives dog for a while but found he spent a lot of time worrying about the what-ifs. He couldn't relax until the event he had swept a building for was over. It takes a special handler to deal with the pressure. He believes Engelman, with his military background, service in Desert Storm and Afghanistan, has a good understanding of the commitment.
Currently, Engelman and his canine partner are working on the streets in her utility dog capacity. Once she gets her explosive certification she will be doing that, too. If all goes as planned, Coris will be a certified explosives dog by 2015.
MILITARY BOMB SQUAD/EOD -IED TOOLS:
http://js.defencetalk.com/wp-content/uploads/2011/06/iraqi-army-MRAP-route-clearance.jpg
BOMB SQUAD/ EOD ROBOTS
http://media.defenceindustrydaily.com/images/LAND_Robot_MMP-15_MMP-30_TMS_lg.jpg
http://www.defencetalk.com/wp-content/uploads/2010/01/bomb-disposal-robot-anti-IED.JPG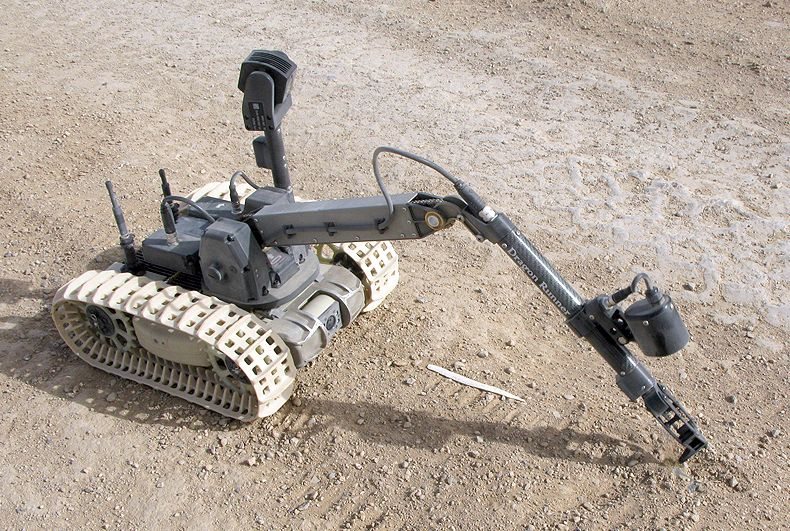 https://images-blogger-opensocial.googleusercontent.com/gadgets/proxy?url=http%3A%2F%2Fwww.defencetalk.com%2Fwp-content%2Fuploads%2F2010%2F01%2Fbomb-disposal-robot-anti-IED.JPG&container=blogger&gadget=a&rewriteMime=image%2F*
AND SOMETIMES- YOU JUST HAVE TO GET UP CLOSE AND PERSONAL-
OLD SCHOOL- BAYONET, , AND JUST DIG.. ..... AND PRAY.....
"dear God.. please dont let this mother fucker blow up in my face. I dont want to die today. thank you.. HAIL MARY, ETC.... repeat as necessary..
http://i.telegraph.co.uk/multimedia/archive/01824/bombSUM_1824746a.jpg
HURT LOCKER:
http://www.operations.mod.uk/fingal/fimages/bomb_disposal.jpg
A typical URBAN POLICE BOMB SQUAD CORDONING OFF THE BLOCK
( defusing the situation with the neighbors?) (PUN>>)
why BLACK PAINTED VEHICLES? BLACK SPRAY PAINT IS DIRT CHEAP- ABOUT 2- 3 BUCKS A CAN.. AND- to distinguish CIVILIAN POLICE and MILITARY NATL. GUARD UNITS, ETC..
http://www.lewrockwell.com/assets/2014/01/mrap.jpg
standing around, waiting for shift change... lol..
LOCAL FORT WAYNE MILITARY /AEROSPACE / CONTRACTOR
POLICE SURPLUS MILITARY SUPPLY PROGRAM:
why not use it? we already paid for them MRAP's; etc- and if we scrap them- its waste; and if we leave them in Iraq; afghanistan, etc- the ENEMY WILL COMANDEER THEM; or sell them dirt cheap to our other enemies.. defeats the purpose.. so ...
http://2.bp.blogspot.com/-pM0X6dIrrXM/Ug556QX4m2I/AAAAAAAAXzQ/gtOw0gseRGE/s1600/American-MRAP-vehicles-in-012.jpg
The MRAP: Reuse, Recycle, Reduce
The Army in November awarded BAE Systems a $37.6 million contract to provide the spare parts and kits needed to convert 250 Mine Resistant Ambush-Protected vehicles into trucks for bomb disposal teams.
It is another sign of life for the massive tactical wheeled vehicles that were rushed into the field to respond to the roadside bomb threat in Iraq during the previous decade.
The 250 RG33 trucks that will be converted at the Letterkinny Army Depot in Pennsylvania into vehicles that are designed for explosive ordnance disposal teams shows that they may not all be white elephants.
"We are just scratching the surface of what our MRAPs can do," said Bob Walsh, vice president and general manager of Navistar Defense, one of the contractors that answered the call to rapidly field the armored trucks during the last decade.
"Before going out to buy a new vehicle, look at the MRAPs. It will be a lot more affordable to change the configuration of these vehicles versus buying a brand new vehicle," he said.
The $45 billion effort to rapidly field a new blast-resistant truck produced some 20,000 vehicles. Production ended last year, but upgrades are still being done as fighting continues in Afghanistan. The vehicles in the Army have transitioned to a "program of record." Some are headed for scrap yards. A few will be left in brigades as troop transports, and for training. As much as 60 percent of them will be put in mothballs. Some surplus MRAPs could find life in foreign militaries, or even be given to local law enforcement special weapons and tactics teams.
Oshkosh Corp., maker of the MRAP-All Terrain Vehicle, the variant quickly produced to fill off-road mission requirements in the rough terrain of Afghanistan, inked a deal to sell 750 of them to the United Arab Emirates. Navistar also continues to market its MaxxPro to overseas customers.
Walsh said all the money in the MRAPs was put into survivability to defeat roadside bombs. The highly protected capsules can be swapped out easily. He foresees the trucks being converted to a myriad of uses. They could host computer servers and become command posts, for example. Navistar is in the process of upgrading some of its old MRAPS with rigid axels to ones with independent suspensions to handle more off-road missions.
Michael Clow, spokesman for the Army's Program Executive Office for Combat Support and Combat Service Support, which now oversees MRAPs, said the new contract work is on top of an order to convert 750 RG31 MRAPs into medium mine protected vehicles to support engineer units in route and area clearance operations.
BAE will provide a rear ramp — used for the deployment of remotely operated unmanned ground vehicles — in route and area clearance missions, and a new heating and air conditioning system for the vehicle.
Clow said the Army may not be done repurposing MRAPs.
"The Army continues to evaluate future force structure requirements and the best mix of assets to satisfy those needs — this could potentially include currently fielded MRAPs, additional MRAP improvements, and potential other uses for these vehicles."
They could also be available for "contingency responses," he said.
Photo Credit: BAE Systems