another account of the nights festivities:
http://www.angrywhiteboy.org/index.php/2011/03/23/the-season-of-the-witch/comment-page-1/#comment-99251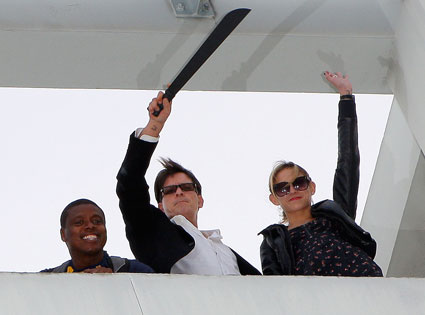 CARLOS IRWIN ESTEVEZ- aka CHARLIE SHEEN - americas highest paid TV/Hollywood actor
ps-SON OF RAMON ESTEVEZ aka MARTIN SHEEN( the west wing, among other fame), and brother of EMILIO ESTEVEZ ( billy the kid, and other roles)
WHOS THE IDIOTS, AND WHAT WERE THEY THINKING? SEE WHAT HAPPENS WHEN YOU LET THE ULTRA-CONSERVATIVE LUNATIC FRINGE ANYWHERE NEAR THE REINS OF GOVERNMENT?
the village idiot. stick to running your crooked saloon with your bimbo wife, and retire gracefully as a one term Mayor. BAALS SAID THE QUEEN, IF YOU HAD A PAIR, YOU'D BE KING...
MAYOR HENRY- BEHIND BARS, INFRONT OF BARS, DRINKING AT BARS. STICK TO WHAT YOU KNOW..
OR FIX THIS FUCK-UP...
LOOK FOR THIS CITY COUNCIL MEETING- 3-22-2011 HERE:
http://afw.pegcentral.com/
http://afw.pegcentral.com/player.php?video=2860bc39a50d538403bf9026857430bc
so heres an interesting news story- watch the 3-22 fw city council meeting. the air was so thick and tense you could cut it with a knife, so to say. seems that the city wont be able to move into the harry baals citizens square- due to construction debris delays, and some idiot( jim howard?) who put a bunch of preconditions in the cleaning co contract about hiring illegal mexicans/asians/ irish/ whatever..
Howard got reamed out by about everybody, but the thing thats the news story is someone needs to be fired for putting this racist clause in the contract to begin with.
jim howard was twisting in the wind, and i could see his Degree underarm goo was failing him. he was dying worse than "the situation" from jersey shore at the donald trump roast on comedy central recently. crickets.....
council president Mitch Harper ripped him good. ditto for Liz brown. someones heads need to roll for this royal foul-up..
Theres already too much anti- foreign sentiment in FTW as it is, and especially hispanic- I grew u with texicans, bi-racial, worked with hispanics in mexican restaurants, coolest landlord was mexican. and so on. why is everybody so prejudiced towards mexicans in fort wayne? seems like white people are being manipulated into thinking that their jobs are gone because of mexicans, instead of politicians, bankers, and businessmen on main street, and wall street.
NO IRISH NEED APPLY? is that what its come down to again? what if the aforementioned idiot/idiots said no jews need apply? or muslims? you get my point.
watch the meeting on public access, and see for your self..
http://www.angrywhiteboy.org/index.php/2011/03/23/the-season-of-the-witch/comment-page-1/#comment-99251
http://roach4mayor.blogspot.com/2011/03/someones-head-on-plate-mayor-tom-balls.html
i'm in favor of having paid SEIU unionized city employees doing the nightly cleaning/custodial work, rather than privatized contractors, due to security issues. private compaines have turnover, and whos to say a spy=type wont get themselves hired, or be hired to rummage through confidentail records gather intelligence for nefarious purposes.
Government offices, doing the peoples business, should be employed by we the people directly, instead of sub-sub contractors.
and the shameful specific conditions included by tea-party/ultra conservative Jim Howard( educated at Pat Robertsons regent law school, with their own agenda)
the fact that he would put such a discriminatory clause and conditions- and i havent been able to read the rest of the contract, and other dubious clauses- makes me sick. dont non- white people have enough troubles in white indiana?
someone needs to be fired.where does the buck stop? whse stupid idea was this? hope the city doesnt get sued for civil rights metro violations...what if the contract said no jews need apply, nor illegal jews? its a slippery slope
MY FAVORITE MEXICAN...
TUCO RAMIREZ:
http://www.youtube.com/watch?v=t9WAsQ1hsNk&feature=related
http://www.youtube.com/watch?v=29kCbliw97A&feature=related
TUCO RAMIREZ- THE ECSTASY OF GOLD:
http://www.youtube.com/watch?v=XzJqHsDAnSY&feature=related